We bring all the tools needed to have a successful painting party.  If you have never painted before, then this is perfect for you!  If you're a seasoned artist, try something new.
Easy      |     Fun      |     Affordable     |     Something for all ages
Canvas painting | creative stepping stones | mixed media
|water color 

| 

clay pot painting, too!
Open Painting Parties.  We'll bring every single pattern with instructions for you to select from.  With over 100 patterns available, there's bound to be something for Everyone!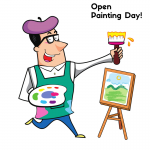 We'll bring all the materials needed to have a blast painting! Never painted before? No worries. We'll be there to help you paint!
Wear old clothes as we are not responsible for paint on clothing.
Bring a covered dish or a snack to eat while painting.
Need more info? Contact CJ at (775) 238-9187
Our Cancellation Policy: We do not refund anyone who has paid in advance and does not show up for the event. However, we will gladly give you a rain-check or gift certificate for the amount of purchase to be used at another social gathering.
Check out our pet fundraisers! 
Dogs!   Cats!   Birds!  Horses!