Tuna Salad made with Fresh Tuna
Ingredients
2 fresh Tuna steaks, about 4 inches each

1 stalk Celery

3 slices Sweet Onion

1/4 red bell pepper

1/4 yellow bell pepper

1/2 tsp seasoned salt

1/2 tsp Watkins Garlic Powder

1/2 tsp Watkins Onion Powder

1 tsp Tabasco Sauce

1 1/2 tsp Watkins Organic Whole Black Peppercorn

3/4 tsp Watkins Dill Weed

2 hard boiled eggs

1/2 cup mayonnaise

1 Tbl Horseradish

Large Mixing bowl
Steam the tuna until the pink in gone in the middle, about 15 minutes. Set aside until you can pick up without burning your hands, then break it apart to prepare it for the food processor. Discard the liquid.
Chop the veggies, or pulse them in the food processor (which is what I prefer). Then pour into large mixing bowl.
Next chop the eggs, and place in large mixing bowl, then add all the veggies and pulse in food processor. Pour into mixing bowl.
Lastly, pulse the tuna in the food processor, then pour into mixing bowl. Add all the seasonings and mayonnaise and Horseradish.
Blend all together and cover with plastic wrap and chill at least an hour. I like to serve mine with Wasa crackers.
PS: If you have pets in the house, they are going to want their fair share of the tuna, so I always save 1 large flake of the raw tuna to give my pets. They go nuts over it!
Do you want the best ingredients for cooking and baking? Visit my website to learn more about Watkins Vanilla and spices, too?
Get Your Watkins Products Here

Watkins Dill Weed
Watkins Garlic Powder
Watkins Onion Powder
Watkins Whole Organic Black Peppercorns
Rice Balls
Ingredients for the rice balls:
1 Cup of homemade red sauce (Jar works fine too)

2 cups of cooked rice, chilled

1/4 tsp garlic powder

1/4 tsp onion powder

2 eggs

3 cups shredded mozzarella

1/4 cup shredded parmesan cheese

About 1 cup Seasoned breadcrumbs
Ingredients For Frying:
1 cup Seasoned breadcrumb or seasoned Panko for coating

1 egg for dipping, beaten
Hint: I save my rice and freeze it because we always seem to have left over rice.
Cook your rice according to package instructions, which should give you about 2 cups of cooked rice. Place the cooked rice in a strainer, uncovered and set in the refrigerator to chill for about 2 hours. 
Use 1 large bowl.  Add rice, sauce, cheeses and 1 beaten egg and mix like meat balls.  Make your meat balls, dip in 2nd beaten egg, dredge in bread crumb.  Fry at 350 degrees until golden brown.
Serve with warm tomato sauce.
These can be frozen and served later.  If, frozen, defrost completely, re-dip in egg and bread crumb then deep fry.
Homemade Chicken & Dumplins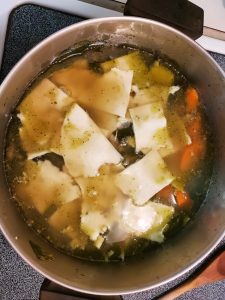 Serves 4
The broth:
4 chicken thighs/breasts de-skinned.

Boil chicken in at least 8 cups of water.  Then, cut up the chicken in small pieces and set aside.  Keep the broth and discard any bones.
The good stuff:
1 large box Chicken Broth (14.5 oz)

+ the reserved broth from the boiled chicken

3 cups water

4 toes Chopped garlic

1 large sweet onion, chopped

4 carrots, sliced into small pieces

3 celery stalks sliced thin

2 or more cups fresh spinach

1 ½ tsp Garlic Powder

1 ½ tsp Onion Powder½ tsp. Oregano

1 T. Cracked Pepper

1 can Italian Stewed Tomatoes
Add all above ingredients into large stock pot and slow-cook on medium heat for at least 45 minutes.  Then add the chopped chicken.  Continue to cook on low heat for another 30 minutes. 
To make the dumplins…
1 c. bread flour

½ tsp salt

1/3 + more water
Use a dough roller to roll out the dough.  It helps make your dumplins super-wafer-thin!  https://www.walmart.com/ip/Fresh-Cutter-Noodle-Manual-Maker-Machine-Accessories-Crank-Spaghetti-Stainless-Makers-Machines-Making-Tools-Rolling-Topcobe-Steel-Hand-Kitchen-Roller/799291250
Roll out dough super-thin using the dough roller machine (or you can feel free to roll it out by hand), then, cut into small squares and only add a few squares at a time to the soup mix.  Press down into the liquid.  Repeat until all dumplins are slowly submerged into the soup.  Cook for 7 minutes, then serve in large bowls.
Holidays are upon us!  What are you planning to cook?  I just added a new recipe to my blog, so thought the recipe would be awesome to try out! It's on my blog.  To view this delicious recipe:

Click on the link below to see the recipe

.
Coffee Punch
½ gal chocolate ice cream

½ gal vanilla ice cream

2 ounces instant coffee

2 c sugar

1 c. water
Place all ingredients into large pan and boil until syrup consistency.  Refrigerate for 2 hours.  

Take out of fridge and add 1 gallon whole milk.  Serve.
Potato Chip Cookies – Make 4 to 5 dozen
2 stick butter
1/2 cup sugar
1 t. vanilla
1 ¾ c flour
¼ cup nuts
1 ½ cup potato chips
With electric mixer, cream butter and sugar until smooth.  Add vanilla, flour, chips and nuts.  Mix thoroughly.  Drop from teaspoon unto ungreased cookie sheets.  Bake at 350° 15 to 20 minutes.  When cool sprinkle with powdered sugar.
***************************************************************
Coming Soon!  Homemade Laundry Detergent!